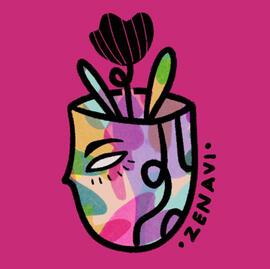 ZENAVÏ
---
Illustrator/2d animator/lyricist/nftS
---
NFTS
---
Stores
About
ZENAVI is an Illustrator, 2D Animator, Pattern Designer & Lyricist. She is currently residing in Indonesia working as a Freelancer. She is a Lo-fi enthusiast. Bakes mean bread. Lectures in a University.

She is part of DREAM TEAM RECORDS.
SHOP - Patterns
These are exclusive hand drawn patterns inspired by events in my life. Some are very personal, and hold alot of meaning to me.

Patterns are ready to be shipped all around the world from Australia, Europe, USA and Indonesia.
Working together with DREAM TEAM RECORDS was one of the best decisions of my life. Here is where I have the opportunity to write lyrics to inspiring melodies.
i n f i n i t e d r e a m s
Say it First by v i v & Nara Anumila
Say it First" embodies the journey of two strangers breaking barriers to get to know each other. The melancholic and nostalgic sounds are a testament to past and present issues we face everyday. Just like passing ships, we miss opportunities to connect with strangers, making assumptions before getting to know them. We lose sight of what's important, being caught in our personal storms, not realizing that we are all in the same boat.
.
NFTs & Galleries
NFTs
Gallery Showings
Illustrations
2D Animations
Midsummer Ride by v i v
An ode to those hot midsummer days where you're riding out on your bike surrounding by the sounds of nature.
Song: v i v
Illutration & Animation: Zenavï
---
Nara Anumila - Trust in Love
"Trust in Love" is an anthem for those ready to start again on the journey of love. A dreamy tune, with an uplifting mood that stands as a reminder to be self-aware and optimistic about time. Time heals and reveals what we need and who we need in life. We all face our separate battles, but when we trust in someone's love to support us, we are stronger together.